Thermo Gauge Instruments Inc. is the successor company to the original Thermogage, Inc. founded by Chuck Brookley in Frostburg, Maryland USA over 30 years ago. We manufacture and support the windowless graphite tube blackbody furnaces used so successfully in many calibration, metrology and research facilities around the world.
We are innovating new parts concepts while retaining support for existing ones. Some of our new designs will save existing customers money on repairs and spares.
Thank you for visiting our website.

An Old-Style Exposed Cavity Graphite Tube Furnace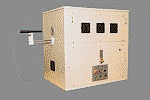 A New-Style Enclosed Cavity Graphite Tube Furnace with Optical Bench
Christopher Liller, the President of Thermo Gauge Instruments, is a former associate and employee of Chuck's. He is continuing the work of manufacturing, supporting and improving the original designs from the new office in Fort Ashby, West Virginia USA a few miles from Frostburg, Maryland.
He has already improved the controller system and recently added a new, state-of-the-art temperature sensor for use in cavity control. All the graphite parts are still manufactured by Thermo Gauge to maintain the quality that is a hallmark of the entire product line.
If you are an existing customer click here or above for parts & service information. Precision products help us build long term relationships.
Contact us for parts, service, applications or price and delivery information.