Service for Thermogage and Thermo Gauge Precision Blackbodies
At Thermo Gauge Instruments, our first responsibility is to provide parts and serve, as needed to our customers and the furnace customers of our predecessor company, Thermogage, Inc.
To this end we have worked diligently to upgrade the parts designs so they are easier to install and more readily available. If you require parts, please review our parts page to identify your furnace type and hopefully the parts that you need.
Our downloadable catalog provides more detail on part numbers and locations, should you need a ready reference.

Exposed Cavity Blackbody Furnace with units in position for calibration testing on the optional optical rail.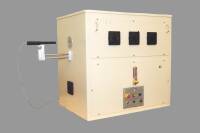 Enclosed Cavity Blackbody Furnace with Optical Bench
With new furnaces we can also offer a short training course on furnace assembly and operation as well as training classes on how to set up practices for calibrating instruments. Contact us for a quotation, please.
We also offer calibration and emissivity measurement services for some IR and Optical instruments. Contact us for quotation, please.
Parts and Product Information On-Line
Product Catalog: (Downloadable in PDF format-Approximately 3 Mb)
New Parts & Service Information
Keep an eye on this space for new information related to parts and service.